Learn and study Ayurveda !
This website provides informations about Ayurvedic Education : clinical study program, training, Distance learning, course and a special book about ayurvedic nutrition by Atreya Smith.

Learn ayurveda online: E-learning teaching Demo

Ayurvedic embryology lesson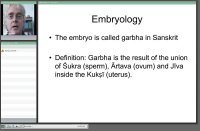 » Learn More : Discover the DEMO of our Ayurvedic Practitioners E-Learning Program
Ayurvedic diet : an individual approach
Ayurveda has always had an individualized approach to nutrition. Fine out how you structure your diet to fit your constitution. One of the fundamental ideas in Ayurveda is that your body is intelligent and seeks health if you support it through good habits. Additionally, health is defined as a dynamic state – not just the absence of disease as in modern medicine. The idea in Ayurvedic nutrition is that health can be increased not just maintained through right lifestyle and diet. Thus, an Ayurvedic diet is an individualized approach that brings a dynamic state of being.



Discover our secure on-line shop!

» Order books
Teachers
We at EIVS feel that we bring the best of India and the West together in the practical clinical application of Ayurveda as well as the most advanced methods of teaching from modern universities in the Western world. If you are looking for a university level program on Ayurveda that is practical rather than intellectually based then our staff fits this requirement. Just look around on the web at other schools and try to match the clinical experience with the modern teaching abilities of our staff - we are knowledgeable, innovative, passionate and exciting teachers - even on-line!
» Vaidya Atreya Smith, BSc
Director of the Institute, teacher
Author of six books on the healing arts of India and three text books for Western students of Ayurveda Atreya brings over 23 years of clinical experience to his school, teaching and, of (...)
» Dr Sunil V. Joshi, MD (ayu)
Teacher for clinical studies
Dr Sunil V. Joshi is a world-renowned expert on Panchakarma and is the author of Ayurveda and Panchakarma, Lotus Press, USA, 1997. Dr. Joshi graduated from Government College of (...)
» Dr Shalmali Joshi, BAMS
Teacher for clinical studies
Dr Shalmali Joshi is the wife and partner of Dr Sunil Joshi at the Vinayak Panchakarma Chikitsalaya. Since 1985 she is a specialist in woman's health issues at the Nagpur clinic. Dr (...)
European Institute of Vedic Studies
EIVS Gmbh, Case postale 1211 - 1820 Montreux 1, Suisse
eMail: contact (at) atreya.com
Contact us
Learn Ayurvedic medecine : Become an Ayurvedic nutritional practitioner! Ayurvedic study based on :
- Ayurvedic Nutrition : the most accessible book on the ancient Indian system of Ayurvedic nutrition and healing from an internationally acclaimed practitioner
- Education e-learning program : Ayurveda course online and distance learning - AYURVEDIC PRACTITIONERS E-LEARNING PROGRAM : 450 hours E-Learning & 200 hours Ayurvedic Clinical Studies Training
© 2010-2019 AYURVEDIC NUTRITION - Ayurveda E-learning courses |
Webservices : www.welwel-multimedia.com